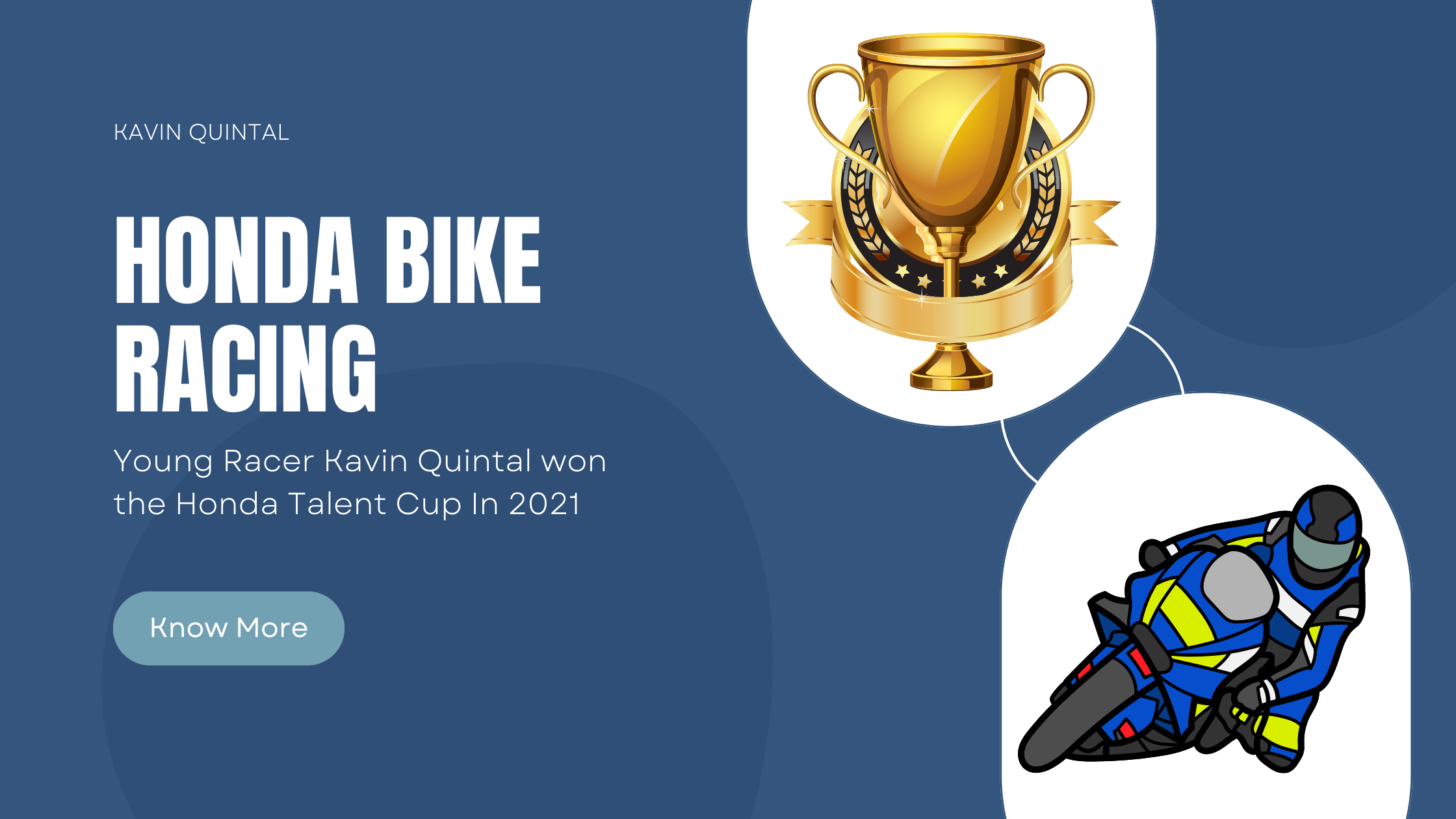 Honda Bike Racing: Young Racer Kavin Quintal won the Honda Talent Cup In 2021
Honda Bike Racing:
Honda bike racing is a popular sport in many countries around the world. In Honda bike racing, teams of two or more racers compete against each other in timed races on special Honda motorcycles. There are many different types of Honda bike racing, including motocross, cross-country, enduro, and trials. Motocross is a form of off-road motorcycle racing that is held on closed courses with jumps and other obstacles. Cross-country races are held on open, natural terrain such as forests or mountains. Enduro races are similar to cross-country races, but they also include sections where the rider must dismount and carry the motorcycle over obstacles. Trials races are held on specially designed courses with obstacles that the racer must navigate without putting their feet down. Honda has been involved in bike racing since the early days of the sport. Honda racers have won numerous championships in all disciplines of motorcycle racing. Today, Honda continues to support riders and teams competing in bike racing around the world.
Kavin Quintal, a young racer from Honda Bike Racing, has won the Honda Talent Cup in 2021. The cup is a competition for young racers who have the potential to be the next big thing in racing. Honda Bike Racing is a team that provides support and development for up-and-coming racers. It is also a platform for young racers to showcase their skills and talents. Kavin Quintal is one of the many young riders who have benefited from Honda Bike Racing. He has raced in various competitions and has even won a few championships. The Honda Talent Cup is a competition that was created to identify the next generation of racing talent. Kavin Quintal raced his way to victory in the final round of the competition and was crowned the Honda Talent Cup champion.
The Honda Talent cup:
The Honda Talent cup is a competition for young people with a passion for Honda vehicles. The competition is open to anyone aged 16-25, and the winner will receive a brand new Honda vehicle of their choice. To enter, simply fill out an application form on the Honda website. The competition is open to residents of the United States, Canada, and Puerto Rico. The winner will be chosen by a panel of Honda judges, and the decision will be based on the applicant's passion for Honda vehicles, as well as their creativity and originality. So if you're a young person with a passion for Honda vehicles, make sure you apply for the Honda Talent cup!
In the Honda Talent cup, young racer Kavin Quintal won first place. This is an annual event that takes place in different locations around the world. The race this year was held in Thailand and it was Quintal's first time competing. He showed great skill and sportsmanship throughout the race and took home the trophy for first place.
Honda Racing Benefits:
There are many benefits to Honda bike racing. For one, it helps young racers like Kavin Quintal hone their skills and become better racers. Additionally, it provides a great opportunity for networking and exposure to the racing world. Furthermore, Honda bike racing can be a great way to relieve stress and have fun. Ultimately, it is up to each individual rider to decide what they want to get out of the experience.
Kavin Quintal Won Honda Talent cup 2021:
At Honda Racing India, the motor racers get an opportunity to partake in the NSF Racing Championship to be held in India. NSF250R is the original race machine developed exclusively by Honda Racing Corporation for the world's best racing championship. The new NSF250RHonda Talent Cup is the perfect stepping stone for India's talented young racers to improve their skills, giving them an opportunity to fast track their international racing career. Kavin Quintal, a young racer, has won the Honda Talent Cup 2021. This is a big win for him and his career in bike racing. The Honda Talent Cup is a highly competitive race that takes place annually. It is open to young racers from all over the world who are looking to make a name for themselves in the world of bike racing. Quintal's win is a huge achievement and will no doubt help him to forge ahead in his career. He is sure to be one to watch out for in future races.
Kavin Quintal Racing Journey:
Kavin Quintal was one of the first eight next-generation Indian racer to race on the NSF250R. Entering into the world of professional racing in 2017 with the Stock 165cc category of the national championship, In his inaugural year itself, Kavin was among the first 8 next-gen Indian riders to get the opportunity to race on NSF250R – Honda's legendary Moto3 race machine platform. Since then, Kavin has been displaying strong potential on the racetrack. The youngster stood second in the 2019 & 2020 championship of the Honda India Talent Cup NSF250R class, and won the 2021 Honda India Talent Cup NSF250R championship.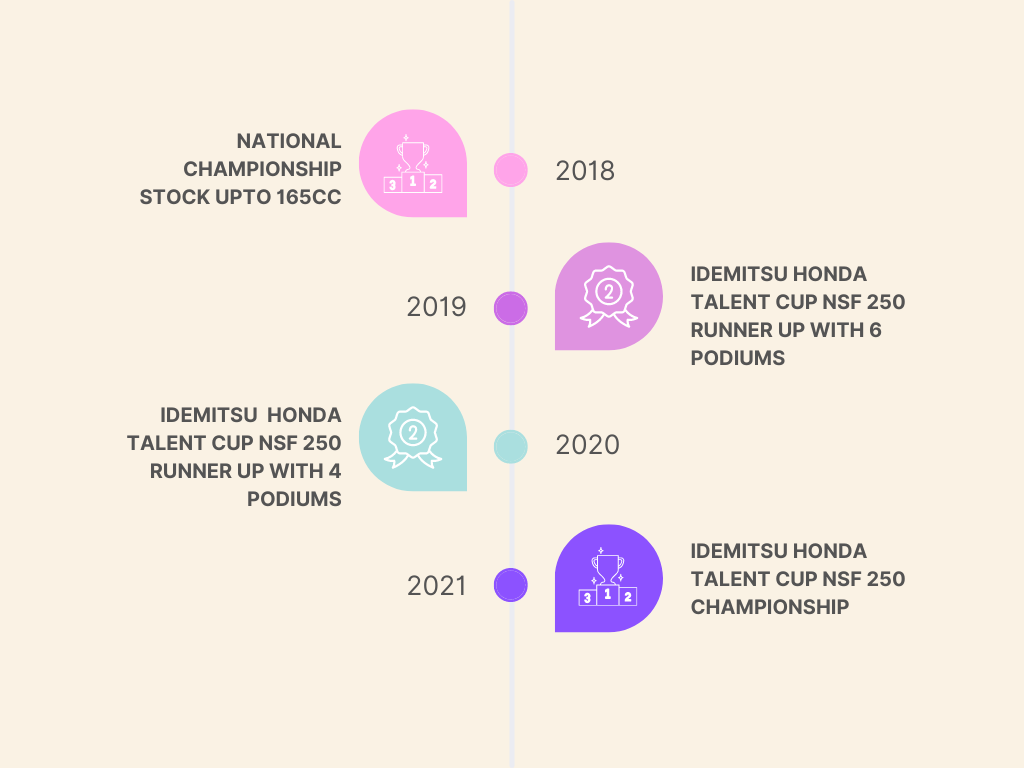 Tips for Honda Bike Racers:
As a Honda bike racer, Kavin Quintal knows a thing or two about winning. The young racer recently took first place in the Honda Talent Cup, and he's sharing his top tips for other Honda bike racers looking to follow in his footsteps.
Get the right bike. As a Honda rider, you have access to some of the best racing bikes on the market. Make sure you're riding one that suits your style and abilities.
Train hard. Racing is as much about mental preparation as it is physical fitness. Make sure you're putting in the hours on the track and in the gym to make sure you're ready to race when the green flag drops.
Know your competition. Keep tabs on the other riders in your class and study their strengths and weaknesses. This will give you an edge when it comes time to line up on the grid.
Stay calm under pressure. When the race is on, it's important to keep your cool and focus on your own race strategy. Don't get caught up in what other riders are doing – stay focused on your own ride.
Be prepared for anything. On race day, anything can happen – from mechanical problems to bad weather conditions. Be prepared for anything that might come your way so you can still put in a strong performance even if things don't go perfectly according to plan.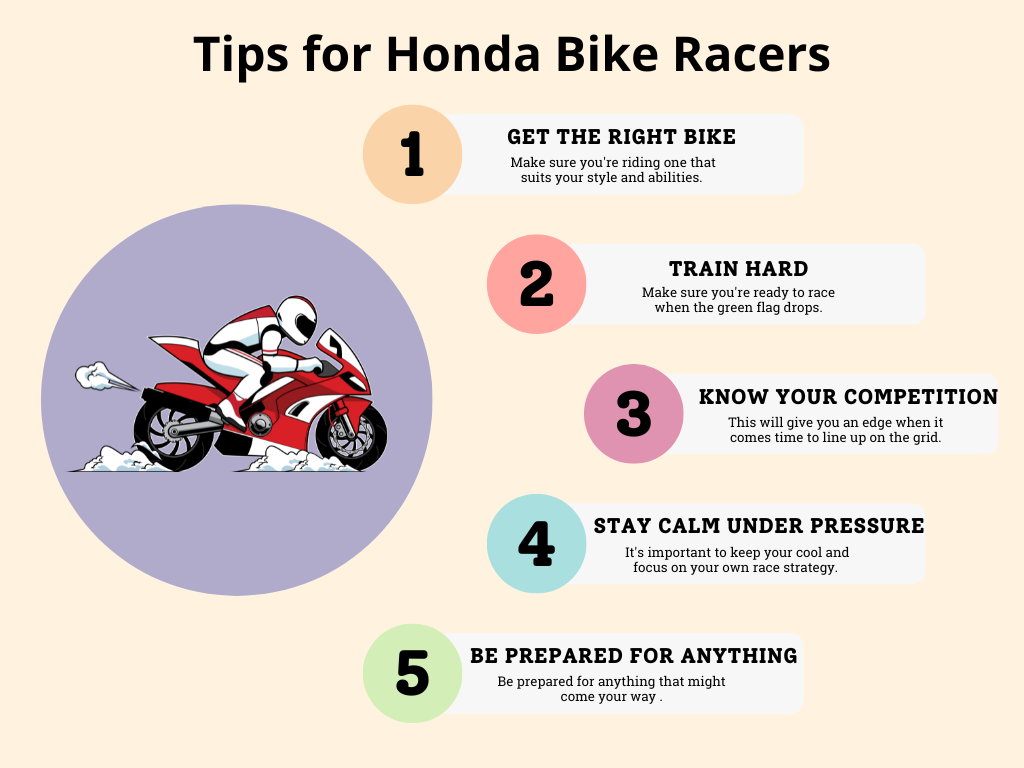 Conclusion:
Kavin Quintal is a young Honda bike racer who won the Honda Talent Cup in 2021. This victory marks a significant milestone in his career, and cements his place as one of the most promising young talents in the racing world. We can't wait to see what he accomplishes next!